Posted: March 3, 2022 at 11:03 a.m.
Any visitor to Lane County driving north on I-5 will notice the landfill out your right window. This "Short Mountain" landfill is owned and operated by Lane County and serves as the final resting place for solid waste in our community. But did you know this site is also an important part of Emerald's power supply?
The History
During the 1980s, local governments made a big push to capture the methane emissions produced by landfills. At the time, Lane County released a Request for Proposals to provide this service and Emerald submitted a bid to use the gas to generate power for our customers. At the time, this was an innovate idea and very few landfill gas power generation plants were in existence. Nonetheless, the pioneering Emerald spirit won out and we signed a contract to provide this service for the County.
Installation of the wellfield gas collection system at Short Mountain
After designing a vacuum system of underground wells and purchasing four engines capable of producing up to 3.2 Megawatts of power, the current plant went live in the early 1990s. We've since been producing local renewable energy at the site for the past 30+ years. Our current contact with the County provides us the gas utilization rights at Short Mountain through the year 2042.
One of the four engines at the Short Mountain Landfill Generation plant
The collection system components at the plant
Current State
The Short Mountain landfill gas plant currently produces around 4% of Emerald's total energy needs. The plant has operated consecutively for three decades with very little downtime other than routine maintenance and engine overhauls. Our small staff of 2-3 employees out there has done a tremendous job keeping this resource going over the years.
Today, Short Mountain is at something of a crossroads. The County has indicated they'd like to capture more gas and we've been working with them on various methods to do so. Meanwhile, new markets have developed for what's called Renewable Natural Gas, which is a renewable fuel that can be used for transportation or inserted into a wholesale gas pipeline.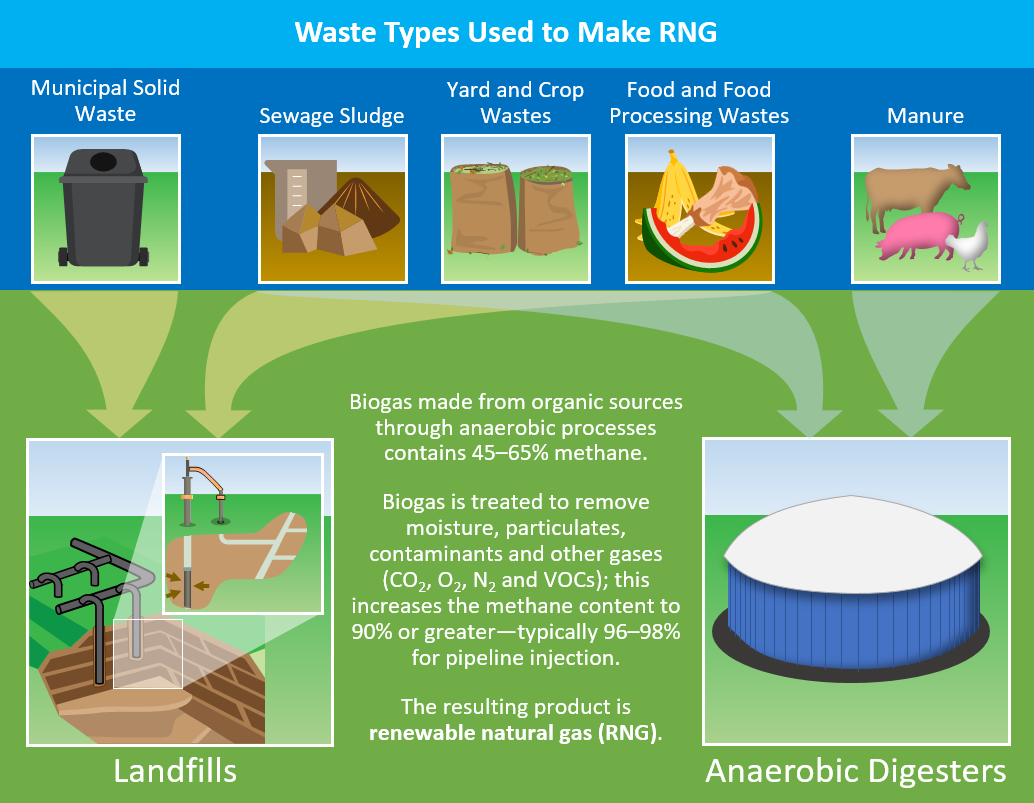 Renewable Natural Gas (RNG) Explanation
Source: https://www.epa.gov/lmop/renewable-natural-gas
We've been talking with other parties about installing the necessary equipment for a Renewable Natural Gas facility at Short Mountain. Making this transition would take Emerald out of the power generation game at the site, but may offer significant economic value to our customers.
Future State
Whether we continue to generate power or move to a Renewable Natural Gas project will be decided over the next year or two. While this will ultimately be a decision for Emerald's Board of Directors, we'll be working closely with the County and other industry partners to maximize the value for our customers and the community.
Today's staff working on the gas collection system 
Our publicly owned utility also stresses customer involvement in major decisions, and we'll be using a Citizen Advisory Committee on Resource Planning to help process through these options. This Committee is appointed by Emerald's Board to make recommendations on power resource decisions and will meet later this year.
We always welcome input from any of our other customers or stakeholders, so please feel free to reach out if you have any questions or concerns. Short Mountain has been a tremendous resource for Emerald over the years and will continue to be so for a long time to come.
Please stay safe,